La urgencia de una Terapia Ocupacional Antirracista
Resumen
En esta editorial, con colegas invitadas de otras universidades, abordaremos el tema del racismo en la Terapia Ocupacional y haremos un llamado a la necesidad de desarrollar una profesión antirracista.
Citas
Andrade, A. F. d., Sousa, D. P., Varela, L. C., & Silva, C. R. (2020). Pertencimento e representação imagética: a negritude na universidade/Belonging and imagetic representation: negritude in university. Revista Interinstitucional Brasileira de Terapia Ocupacional-REVISBRATO, 4(6), 850-857.
Departamento Penitenciário Nacional. (2019). Infopen: Relatório de Informações Penitenciárias. Ministério da Justiça e Segurança Pública.
Fanon, F. (2008). Pele negra, máscaras brancas Edufba.
Farias, L., & Simaan, J. (2020). Introduction to the Anti-Racism Virtual Issue of the Journal of Occupational Science. Journal of Occupational Science, 27(4), 454-459.
Farias, M. N., Junior, J. D. L., & Amorim, S. G. S. (2020). Por uma formação e prática antirracista. Revista Chilena de Terapia Ocupacional, 20(2), 237-247.
Gilroy, P. (2007). A crise da raça e da raciologia. In P. Gilroy (Ed.), Entre Campos: nações, culturas e fascínio da raça (pp. 29-76). Anablume.
Gomes, L. (2019). Escravidão: do primeiro leilão de cativos em Portugal até a morte de Zumbi dos Palmares (Vol. 1). Globo Livros.
Gordon, L. (2015). What Fanon Said: a philosophical introduction to his life and thought. Fordham University Press Publication.
Grenier, M.-L. (2020). Cultural competency and the reproduction of White supremacy in occupational therapy education. Health Education Journal, 79(6), 633-644.
Grosfoguel, R. (2016). 2016). What is racism? Journal of World-Systems Research, 22(1), 9-15. https://doi.org/http://doi.org/10.5195/jwsr.2016.609
Instituto Brasileiro de Geografia e Estatística. (2020). Brasil 500 anos. Território Brasileiro e Povoamento. https://brasil500anos.ibge.gov.br/territorio-brasileiro-e-povoamento/historia-indigena/os-numeros-da-populacao-indigena.html
Instituto de Pesquisa Econômica Aplicada. (2018). Atlas da Violência. CPI.
Kendi, I. X. (2019). How to be an antiracist. One world.
Kronenberg, F. (2020). Commentary on JOS Editorial Board's anti-racism pledge. Journal of Occupational Science, 1-6.
Lavalley, R., & Johnson, K. R. (2020). Occupation, injustice, and anti-Black racism in the United States of America. Journal of Occupational Science, 1-13. https://doi.org/https://doi.org/10.1080/14427591.2020.1810111
Lei nº 12.990. (2014). Reserva aos negros 20% (vinte por cento) das vagas oferecidas nos concursos públicos para provimento de cargos efetivos e empregos públicos no âmbito da administração pública federal, das autarquias, das fundações públicas, das empresas públicas e das sociedades de economia mista controladas pela União. Brasil. http://legislacao.planalto.gov.br/legisla/legislacao.nsf/Viw_Identificacao/lei 12.990-2014?
Ministério da Educação. (2010). Censo da Educação Superior. Instituto Nacional de Estudos e Pesquisas Educacionais Anísio Teixeira. <http://download.inep.gov.br/educacao_superior/enade/relatorio_sintese/2010/2010_rel_sint_tecnologia_terapia_ocupacional.pdf>
Morrison, R., Olivares, D., & Vidal, D. (2011). La Filosofía de la Ocupación Humana y el Paradigma Social de la Ocupación. Algunas reflexiones y propuestas sobre epistemologías actuales en Terapia Ocupacional y Ciencias de la Ocupación. Revista Chilena de Terapia Ocupacional, 11(2), 102-119.
Nascimento, A. (2016). O genocídio do negro brasileiro: processos de um racismo mascarado (3a ed.). Perspectiva.
Schleef, F. A. G., & Ruiz, C. B. (2019). La demanda del pueblo afrochileno por el reconocimiento: La construcción del derecho a la visibilidad estadística. Anuario de Derechos Humanos, 15(1), 65-82.
Stanley, M., Rogers, S., Forwell, S., Hocking, C., Nayar, S., Laliberte Rudman, D., Prodinger, B., Vera, L. F., Townsend, E. E., & Magalhães, L. (2020). A pledge to mobilize against racism. Journal of Occupational Science, 27(3), 294-295.
Subercaseaux, B. (2007). Raza y nación: el caso de Chile. A Contracorriente: una revista de estudios latinoamericanos, 5(1), 29-63.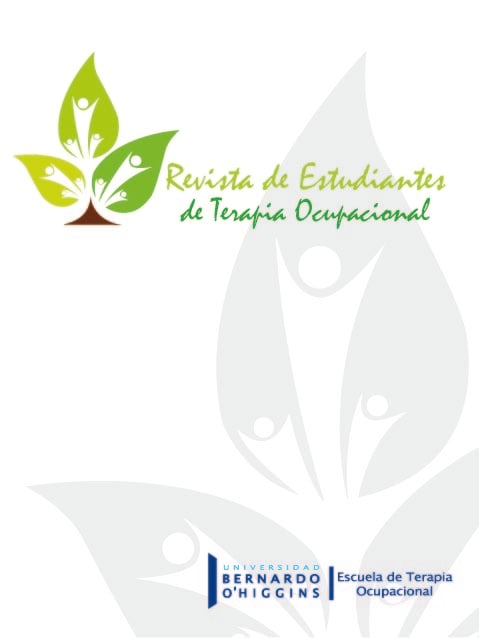 Descargas
Licencia
Derechos de autor 2021 Revista de Estudiantes de Terapia Ocupacional
Esta obra está bajo una licencia internacional Creative Commons Atribución-NoComercial-SinDerivadas 4.0.